In this post we will analyze the UX / UI design trends in apps for 2018, we will talk about in what direction application interface designs are headed, and which are the most innovative proposals to improve the user experience with smartphones.
Apps never stop reinventing themselves. Functionalities and designs undergo continuous updates in order to offer the best experiences and not become obsolete at any time. In DIGITAL55 we wanted to make a compilation of these trends by separating between novelties in UX y en UI.
User experience (UX) design trends
 1. Biometric authentication
Touch ID technology was developed in 2016 as an innovative way to unlock mobile phones. Using it only in this way would fail be a waste. That is why both Apple and Samsung quickly opted to implement it in other apps where security is paramount: payments in Amazon or PayPal, access to files in the cloud from the Dropbox platform, access to your bank details or medical files, etc.
In 2017, a large amount of apps gave access through the owner's fingerprint. However, the revolution does not stop there. In 2018, the trend will evolve to biometric authentication, including facial recognition (iPhone X), and retina recognition. In the next year, this technology is expected to fully integrated into most apps and digital media.
(https://www.abc.es/tecnologia/moviles/telefonia/abci-funciones-secretas-face-iphone-201711212024_noticia.html)
2. Humanization of experience or Storytelling
As its name suggests, this trend is based on including conversational UI. It is a new model, whose experience replaces traditional versions that used buttons, menus, and other forms of interaction. It focuses on interacting through phrases, conversations or emoticons. A good example of this use of chatbots is the interface of the Uber app, whose app creates a step-by-step conversational flux.
(https://octodev.net/how-uber-was-made/)
First you say where you want to go. Then the app asks where you are and tells you the estimated arrival time. Once the trip has ended, Uber asks how it was. Finally, you give your opinion.
3. Voice usage
Although mobile devices have had it for many years, its increasing use has been extended to consolidate a trend in UX for 2018. Apps like Siri represent a great leap toward simpler use and allow you to use your device without your hands. Another good example of the preference of voice over writing is the famous WhatsApp's evolution. Since a little over a year ago, they have experienced a considerable increase in audio messages and a significant decrease in text messages.
4. Augmented reality
Augmented reality is fashionable. One of the pioneering apps in this was Pokémon GO. This game for Android and iOS was a revolution. People went out with their smartphones to capture the iconic Japanese creatures. The app reported to Nintendo an increase in their shares by 40% in just three sessions, and it helped lay the foundations for implementing virtual reality in years to come.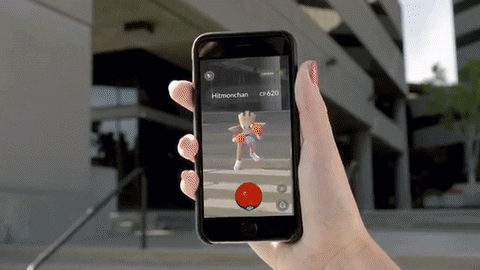 Another example is IKEA, who recently developed an app based on augmented reality. This app recreates a piece of furniture in the catalog in three dimensions. It allows customers to get a good idea of how it would fit in their home.
(https://www.xataka.com/basics/diferencias-entre-realidad-aumentada-realidad-virtual-y-realidad-mixta)
With the rise of 3D printers, some mobile phones have begun to include apps in their devices that allow the scanning of people and objects. This is the case of Sony with its 3D Scanner app, which is included in the most innovative devices of the brand. Through simple instructions, the user can obtain a 3D portrait of people, animals, objects, or food. Once finished, you can share the result, print it, or superimpose it on videos or personalized images.
5. Less device usage
This trends refers to the simple use that some apps like Shazam have, with a big button in the opening window; or Apple Pay, where you press the start button twice and it instantly gives you access to your bank account cards. This rapid access to the app's functions is adopted by a large number of applications in order to provide the user with a useful, quick experience that solves problems.
User Interface (UI) design trends
1. The return to the visible menu
The visible menu lost a lot of ground to the innovative menus known as the "hamburger menus." (They are called this because the menu's 3 lines resemble a hamburger). These were first enormously revolutionary for the amount of space that they saved on the screen, although their advantage soon became their weakness. Users found it difficult to find the options or settings of the app, making browsing the app a tedious experience.
Facebook and YouTube rectified this. Now, their mobile apps have adopted simple menus, with options at the top or at the end of the screen, but always in sight.
https://jesusmartin.eu/muerte-menu-hamburguesa/
2. Movement, animation and video
Everything that moves captivates the eye. Until relatively recently, including automatic video or animation was a problem because it took up too much space in the app. With new flagships from major brands (iPhone X and Galaxy S8) going into 2018, that problem seems to be a thing of the past. Apps will fully utilize movement's potential.

3. Minimalism, colors, gradients and typography
The design trends expected in 2018:
The use of one or two colors Flat or intense matte colors with elegant tones which are at the same time modest.
Smart gradients are also a trend. The melting between two colors, the transformation of a color towards a lighter or darker tone, or the progressive evolution towards transparency provide the applications with a minimalist touch that is now fashionable.
Typographies, on the other hand, are becoming important elements for design and user experience. They are resources to be taken into account because they provide identity and improve the UX of the app. Furthermore, Google has been improving its universal typography for a year now. It is known as Noto. It includes 800 languages and 110,000 characters. Its goal is to eliminate annoying rectangles that appear when the program does not recognize a character, thus improving user experience navigating the app.
Well-used fonts and colors help improve user experience. It is not about designing for design's sake, but about making intelligent use of designs.

https://material.io/
4. Custom artwork
The customization of audiovisual material in apps is very important today, although it has not always been valued this much. The general practice is to hire image banks that help to complete the design but do not give it the unique and personal value that customized illustrations would give them. While image banks are still used to a large extent, the current trend is to have your own design material for your applications.
5. Adaptive Design
Previously, we talked about how users are changing the way to navigate, but the designs also have to adapt. The adaptive design provides the the ability to interact with our app in the most effective way, regardless of the device you are on. This is possible by making different designs for the same app and adapting them to the characteristics of the support. This trend has more support than the responsive design, which has a single design and adapts it to the screen. In the adaptive design, it is imperative to test the navigation and usability before implementing it. When integrating the design, one should also keep in mind each application's content structure.

https://www.websurfmedia.com/responsive-vs-adaptive-design/
6. Card-based design
Although they emerged several years ago, their advantages had not truly been exploited until now. The main characteristic of the so-called Card-Based Design is that it allows the content to divide, enabling multimedia material to load separately. This translates into a faster and smoother application.